Podcast: Play in new window | Download
Subscribe: Apple Podcasts | Android | Google Podcasts | Spotify | RSS | More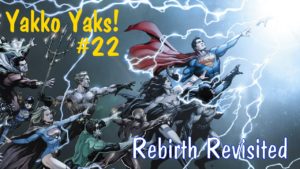 In this episode I am joined by my buddy Yoshi from TransMissions as we talk about DC Comic's Rebirth event in a segment we recorded shortly after the Rebirth book was released. After that segment I'll talk about the books I've purchased since then and what I think about them.
Show Notes
If you want more Yoshi, check out his podcast, Yoshicast!
Hey, TransMissions has an exclusive cover of the new Transformers: Till All Are One book! Buy a copy here!
Thanks for listening!
Remember to send your feedback at yakkoyaks.com/yakkoyaks022 or on twitter @yakk0dotorg!
Remember to use https://yakkoyaks.com/amazon when shopping to help the show, and please leave a rating and review in iTunes or your favorite podcast app