Podcast: Play in new window | Download
Subscribe: Apple Podcasts | Android | Google Podcasts | Spotify | RSS | More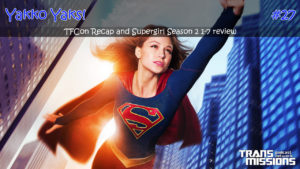 In this episode I talk about my time at TFCon back in October and I take a look at the first half of Supergirl Season 2! After all that, I discuss what I plan on doing on this show going forward.
Show Notes
Thanks to everyone that used https://yakkoyaks.com/amazon when shopping to help the show! These are the items that were recently purchased and I talked about on the show:
SkylinkHome TM-001 Decorative Light Switch Cover for WR-001 Wall Switch Home Automation Control Receiver.
Justice League: Gods and Monsters (Blu-ray + DVD + Digital HD UltraViolet Combo Pack)
Transformers Generations Leader Powermaster Optimus Prime Action Figure
Transformers Generations Titans Return Legends Class Laserbeak
All-New Echo Dot (2nd Generation) – Black
Transformers: The Movie (30th Anniversary Edition) [Blu-ray]
Thanks for listening!
Remember to send your feedback at yakkoyaks.com/yaks027 or on twitter @yakk0dotorg and please subscribe and leave a rating and review in iTunes or your favorite podcast app!
Yakko Yaks is a part of the TransMissions family of podcasts. For more great content check out all of our other shows!